With the next release of GTK+ the latest advances in graphics technology, called cairo, will be available to themers and programmers. Cairo gives high quality output, ideal for creating smooth themes for GTK+ applications. For more information on cairo, check the website.
Porting Clearlooks to cairo
That's right, I'm working on a new version of Clearlooks, using this new API. It isn't a 1:1 port, but look at it as the Clearlooks I've always meant it to be. It'll be shinier, prettier, and… oh right, slower.
Speed Issues
Right now cairo isn't exactly "fast". I can't give you any numbers, but believe me… You'll see and feel the difference. This makes sense though, considering the complexity of the drawing operations. You'll see anti-aliasing everywhere, making the theme look very smooth. With time, cairo will be optimised, and the speed issues should dissapear.
The Result (so far)
I've started working on this a few days ago. So far I've finished the progressbar, slider, button, and entry widgets. Here's a little screenshot.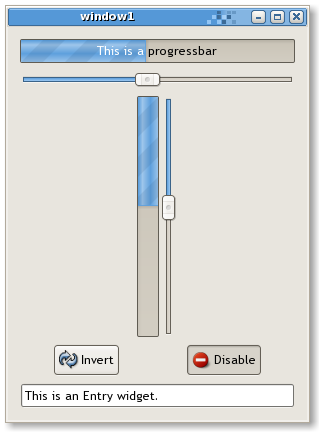 Clearlooks-cairo won't be ready anytime soon, but the code is in CVS, so feel free to try it out. It requires GTK+ 2.7 or newer.