Wednesday, August 10th, 2005
I've had quite some requests to port Clearlooks to Qt/KDE, and the idea has been playing in my head for a while now.
Since porting the original Clearlooks to KDE is a very time consuming process, I decided to design the cairo version in such a way that makes it as independent from GTK+ as possible. The result is that, when Qt support cairo (if ever), porting Clearlooks to Qt/KDE will be pretty straightforward.
In the process of disconnecting the drawing code from GTK+, I learned that I have been displaying disabled toggled toggle buttons wrong all the time. So even if the button is toggled, I'd still display it as if it wasn't. Clearlooks-cairo displays it properly though.
Behold: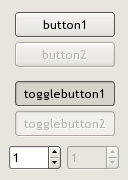 I'm also surprised at the cleanness of the drawing code. I can imagine that anyone that has worked with cairo a bit will be able to pick it up immediately. But even if you have no experience with the cairo API, it will still be pretty easy to understand. And that's worth something, in my opinion